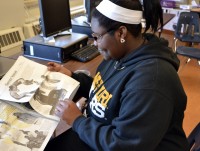 Finally, my single spotlight online it's all about ME! As you can tell I'm just a fun person to be around. I really like acting and reading and making my own plays in my spare time. Because I love writing stories and plays the newspaper really expands your way of writing and it improves your writing skills. This being my first year doing stories in the U-Times Newspaper is pretty much cool.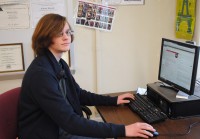 I have always taken much joy from writing. Although my chosen forte is fiction rather than newspaper, I find this position to be an effective method of rounding out my writing ability. I also enjoy working "behind the scenes," but I do partake in other school activities, such as Latin Club, FIRST Robotics, and the school musical. Outside of school, I volunteer at the U. City Public Library and the Saint Louis Zoo.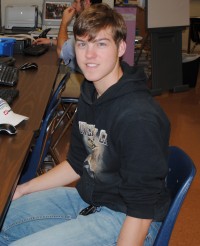 I have been with the newspaper for five semesters now – that's two and a half school years. After learning the ropes in the second semester of sophomore year, I took over the job of web editor of utimesonline.com, the newspaper's online sibling that nobody seems to know about. I have enjoyed the experience however and even earned a design award for my efforts refreshing the site last year. By the end of the year I hope to have a group of newer newspaper members ready to make the site even better next year.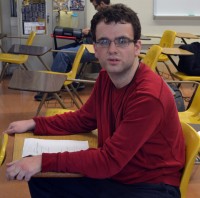 It has been a great four years with the U-Times.  I have been given tremendous latitude in the creation of my editorials.  I thank all of the students and teachers for their forthright answers to my surveys.  Your insights have inspired my writing and invigorated potentially dry topics with lively quotes.  The growth of U-Times online is an exciting development and I hope this endeavor blossoms in the ensuing years.  Carpe diem on the web.  I hope my years on the paper will springboard me toward a career as professional writer.  Thank you for reading.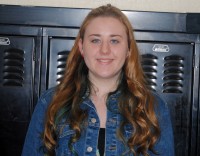 As co-editor of the U-Times this year, I have learned many life lessons! One is that God has blessed me with the presence of the archangel Alice in my life. She is my co-editor and one of my best friends, if not my only best friend. Another is that editing video is hard and time consuming! And the last is that life wouldn't be the same without being a part of this intelligent, funny, and crazy staff! I participate in basketball, girls swimming, and I manage water polo. Thanks for reading about my boring life.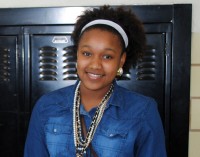 Being a part of the making of each U- Times Newsmagazine this school year, I have grown a better appreciation for current news. Throughout the year, I've faced several deadlines, written many stories, but most importantly enjoyed being with my friends Alice, Lily, and Emily as they are also U- Times staff. In my spare time, I enjoy swimming, my favorite style being freestyle. I also enjoy listening to music. I most enjoy Yo Gotti, Boosie, Adele and sometimes my golden oldies made by artists such as Madonna, Blondie, Vanilla Ice, and Ice Cube.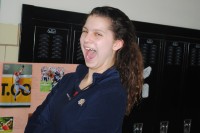 This is my first year on the newspaper staff and so far it's been a blast! My writing skills have improved since the beginning of the year and I've become more comfortable with asking people questions.  Some of the deadlines were hard to meet because people don't respond to emails or give the information that I needed.  When I'm not writing stories for newspaper I participate in National Honor Society, field hockey, girls swimming, the A+ tutoring program, and volunteer regularly.  After I graduate high school, I want attend University of Notre Dame or Duke University and major in biology or chemistry and minor in Latin.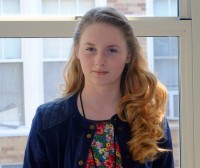 Hola, I am the co-editor of the U-Times newspaper and really enjoy working with the fabulous staff to bring news to the high school. I manage the water polo and girls swim teams which is an absolute hoot. In my spare time I sit on the couch and think about doing productive things, watch Ru Paul's Drag Race, and sing show tunes.  Other than that, I like doing hoodrat things with Kayla. Gracias por tú hora.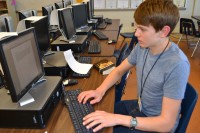 I am currently a senior at U. City and have, unfortunately, only graced the newspaper with my presence for one semester.  Outside of school, I can only be described as one thing, a runner. I have been on the varsity cross country and track team all four years and spend my summers and winters continuing to run eight or nine miles per day. While in school, I am a "straight A" student.  As a staff writer for the newspaper, I enjoy the freedom of being able to report on any topic I choose. Even though it is my plan to be in college next year, I hope that my quiet, yet guiding presence has helped my fellow writers to grow in both their writing and character.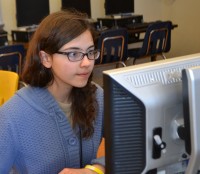 There are few feelings equal to that of opening a freshly printed newspaper and seeing your name over the story you've worked on for weeks. After Ms. Williams published my first short article in the newspaper when I was in Intro to Journalism, I was hooked. I joined the U-Times staff in January, and I've loved every minute of it. Besides working on the newspaper, I'm also a member of the robotics team, the field hockey team, GSA, and the Students on the Go half marathon program. I'm also president of freshman student council. You may have heard of my older brother, Daniel, a senior.