U. City Arts Night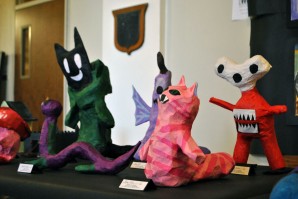 Photo Credit: Alice Mutrux
Alice Mutrux, Staff Writer
April 26, 2012
Filed under Top Stories
U. City's front corridor was transformed from the average school hallway into a gallery packed with artistic talent from across the district. The annual arts night on April 18, which has been put on by U. City's art department for more than 10 years, showcased drawings, prints, ceramics, and sculpture, along with some of the more unexpected forms of art such as knitting, graphic design, woodworking, and dance.
Along with work from high school students, elementary schools such as Jackson Park, Barbara Jordan, andFlynnPark, along with Brittany Woods and theLiebermanLearningCentercontributed student artwork as well.
"It was really cool seeing artwork from all across the district," said junior Ashley Hughes, "I especially liked seeing the work from the little kids and also the ceramics sculptures."
The night included demonstrations from high school students, interactive activities, and a performance from dance class 7-8 in which they expressed questions and fears through movement and dance.
"I like that there was a dance performance at the arts night," said freshman Myiesha Jamison. "I can see how dance is a form of art because dancers are able to express themselves and move in a way that is visually pleasing and that tells a story, just like a painting does."
The event's coordinators, Ms. Harkins and Ms. Claunch, organized and set up the displays along with a team of art students.
"Overall, Arts Night was a huge success." Said Ms. Harkins, the ceramics teacher at U. City, "Parents, teachers, administrators and members of the community were able to come and view the wonderful artistic talent we have at U. City!"