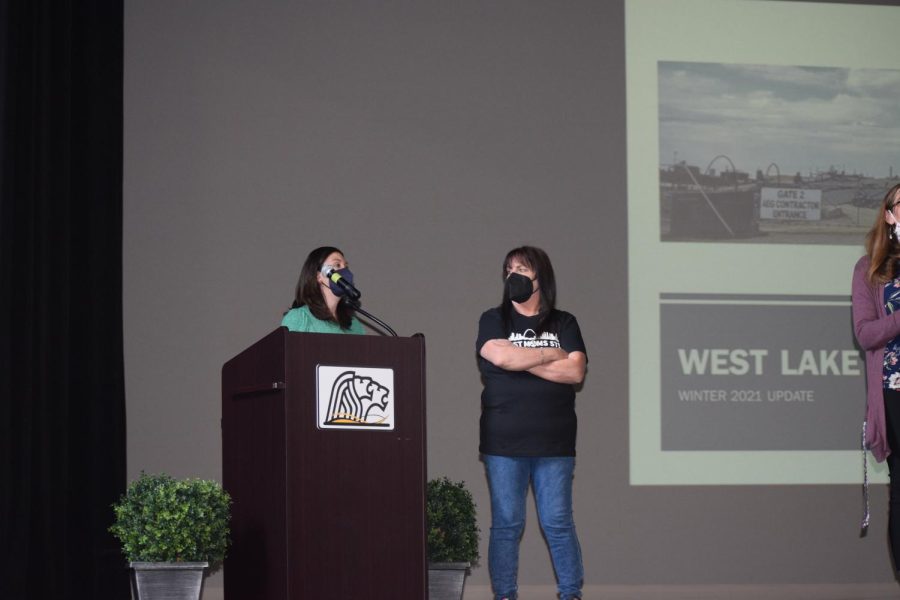 For most people, being slowly poisoned by the air you breathe in your neighborhood is not a situation that crosses your mind when you decide to live somewhere. However, moms Karen Nickel and Dawn Chapman have had to deal with this reality living near the Westlake landfill in Bridgeton
Nickel and Chapman were invited by Sherry Wibben, science teacher, to speak to U. City students on April 19. In March 2014, they founded Just Moms STL, an organization that informs people about the radioactive material present in their neighborhoods.
"I know a lot of people who have MS (multiple sclerosis), my son has type 1 diabetes," Chapman said. "It ends up being entire families that have multiple autoimmune diseases." 
Back in 1973, 8,700 tons of leached barium sulfate was illegally dumped into the landfill; waste which was the product of the Manhattan project. The waste was left out in the open for years, causing the area to become contaminated. Nickel and Chapman have had to deal with the aftermath of this disaster. They both grew up in the area and have had to suffer from many health problems throughout their lifetimes. Their own children have been affected, too. Entire neighborhoods have been riddled with diseases because of the waste.  
"Fifteen people on my street alone died of very rare cancers, and a lot of those people were in their late 30's, early 40's," Nickel said. "One of the first signs we noticed before the cancers hit were autoimmune diseases." 
These autoimmune diseases are extremely common for those who have chronic exposure. Appendix cancer affects one in a million people, but there have been about 200 cases found within communities close to Coldwater Creek. Nickel's sister had cysts that covered her ovaries when she was 11. 
"We were poisoned," Nickel said.  
It wasn't until 1989 that the contamination of Coldwater Creek was declared a Superfund site by the Environmental Protection Agency (EPA). Westlake Landfill received the same title the following year. This means that the federal government designated both areas for long-term clean up of the hazardous material. However, both Nickel and Chapman feel as though the concerns regarding the hazards were ignored and not properly handled.  
"None of the people responsible for protecting us had a complete picture," Chapman said.
The 2017 documentary, Atomic Homefront, which was released on HBO, tells the story of the Westlake Landfill and those affected by it. It showcases the struggles of getting the EPA to recognize just how concerning the nuclear waste really is. The goal of this documentary was to raise awareness and educate the public about the long term disaster ignoring the landfill has caused. Both Nickel and Chapman are determined to receive justice for all that their suffering.
"Why?" Nickel said. "Because my parents didn't have that opportunity. No one told them; they did not know that they took their American dream, and bought a house in a graceful subdivision full of children, just to have their kids be poisoned."