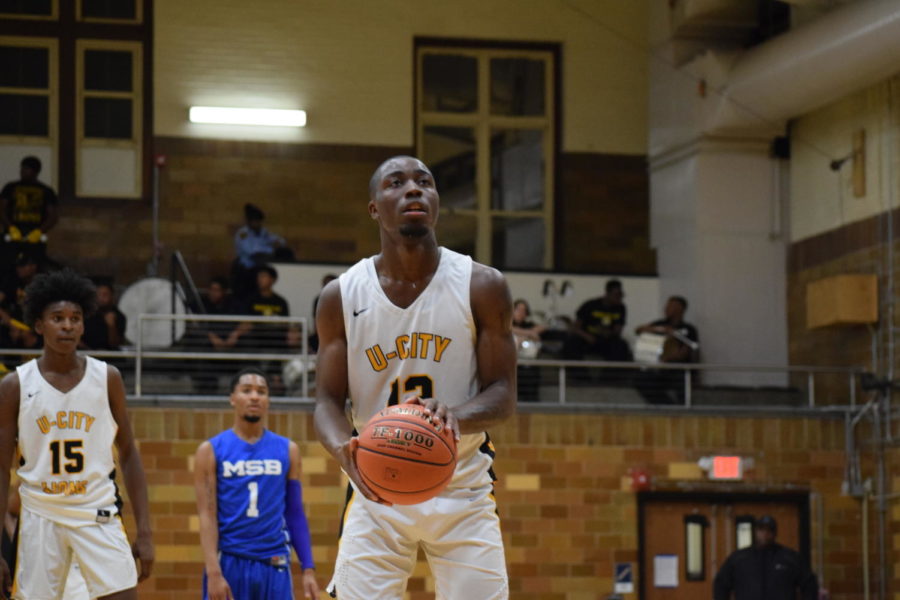 Beginning his second season as the head coach of the boys' basketball program, Kelvin Lee's team jumped quickly to 4-2, their best start in four seasons. 
Since the 2014-15 season, the Lions have not started their season with a winning record.
Much of this can be attributed to the insight and education of Lee, who has decades of experience. Lee played college ball at Houston Baptist University, and went on to work on the coaching staffs at Baylor University and Texas A&M. He then turned to St. Louis high school basketball coaching at Chaminade, Miller Career Academy, St. Mary's and now University City. 
When Lee arrived at University City, he had strong ideas for making the school a better place and making his players and the student body into better people. Since the beginning of last year, Lee has been instilling his values into U. City.
"I want our kids to be good students, good athletes and good people," said Lee. "Being a good person is more important than anything."
Lee is happy with the progress the school has made in becoming a better place, but there is still more work to be done.
"This is a journey," said Lee. "I'm committed to a 10-year deal. It will take time to get it done." 
Lee's varsity team has wasted no time turning things around.
After a win on Nov. 28. against Lee's former school, St. Mary's, the Lions' record improved to 2-1. Their winning record has large contributions from Larry Abbey, freshman point guard, and Justin Holland, sophomore shooting guard, who control the Lions' back court. 
After draining six 3-pointers against Trinity in the Lions' first game of the Vianney Tournament on Nov. 26., Holland became ranked eighth in the St. Louis area in 3-point percentage, according to the St. Louis Post-Dispatch. His teammate, Abbey, also ranked eighth in the area in assists with 12 on the season. 
Holland and Abbey are thrilled to start off so hot in their young careers.
"I didn't have a great season on JV last year, but to come back and play a lot better and start out strong feels amazing," said Holland.
The early success is somewhat surprising when it is considered that the team has only two seniors, and only two returning varsity players, Azyah Brown, senior, and Trayvon Robinson, junior.
There are five sophomores and two freshman on the 13- man roster. Two of these underclassmen are Abbey and Holland, the only players ranked in the St. Louis area. Certainly the lack of age and experienced has not impacted skill, but the team does lack a strong central leadership.
In Lee's opinion, the coaches are doing most of the leading, but has faith that over the course of the season, his returning players will pick up some of the slack and act as key leaders for the players.
Coach Lee and the Lions seem to have created what is looking like a "fresh start" of sorts for basketball U. City, and are excited to see what the season brings.