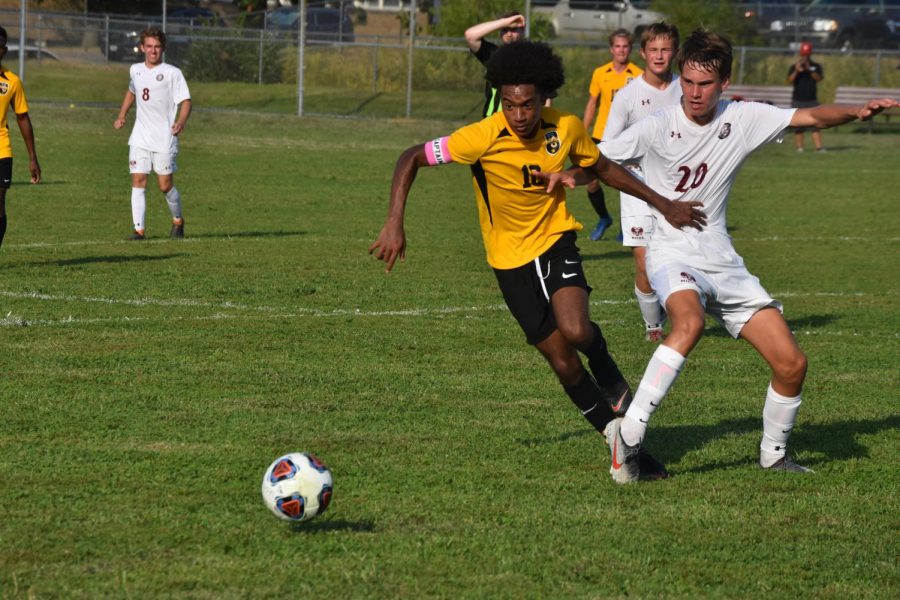 Tia Moore
This year's boys soccer team has had one of the most successful seasons in quite some time, highlighted by a 14-game winning streak and a second consecutive conference championship. Additionally, forward Jalen Corn, junior, was named to the 2nd Team All-State Class 2 soccer team, in addition to being selected for the Class 2 Region 1 All-Region Team and honored with Suburban Conference Player of the Team. 
Corn finished the season with 46 goals and 12 winning goals– making him the leading scorer in the St. Louis area. 
"He's really fast and dribbles with creativity," said Cameron Smith, junior. "His records speak for [themselves] on the level of talent he has." 
Head coach Thomas Henson has been working with Corn for the past three years, and like Smith, is impressed by all that he has to offer. 
"Jalen's strengths are his creativity, ball skills, speed with the ball and ability to score," Henson said. "He is without a doubt the most talented soccer player to come through our soccer program during my six years as head coach."
Not only contributing to the U. City soccer team, Corn has been involved in club soccer for five years and even attributes his success and competitive fire to the club soccer environment. 
"It's really pushed me to be the best player I can be because of how competitive the environment is," said Corn. 
Corn has been playing soccer since he was four years old and his passion for the sport has not fallen short since. 
"I have team practices every day and I usually go to the rec on the weekends to do as much as I can to get better,' said Corn. "Hard work got me where I am today." 
Corn hopes to be selected to the First Team All-State next year and proceed to play soccer on the Division 1 level in college.
For now, however, it's all about this season's accomplishments. 
"He definitely earned the recognition and it was nice to see a U. City athlete garner state recognition," Henson said.