FIRST Robotics Competition
On Friday, March 8 and Saturday, March 9, the U. City robotics team competed in the annual FIRST Robotics Competition.  After a long build season, the team successfully built a robot that was capable of launching Frisbees across the playing field.
"Our toughest rival this year was the Ratchet Rockers from Wentzville High School," said sophomore Walter Deitzler. "They could accurately shoot disks directly from the loading station into the goal.  Initially, we stopped them from getting to the goal so they would not shoot across the court."
Every year around January, robotics teams across the country attend a kick-off event in which the current year's game is revealed.  This year was no different; they were challenged with the idea of creating and programming a robot to ultimately fling Frisbees across the playing field and into designated bins. For extra points robots could climb a metal pyramid.
Schools across the St. Louis area, including, Ladue, Westminster, Hazelwood Central, East and West, Bishop DuBorg, and DeSmet participated as well as schools from other states.  The ­­­­­­­­­­ 4-H group from Camdenton, Missouri took home top honors and won the entire competition.
"We didn't reach the elimination rounds," said freshman robotics team member, Christine Politte. "We built the best robot our team has ever built."
Politte believes the excellence of the robot is due to the experience of the seniors coupled with the input of the underclassmen.
"We're looking to be a strong team even though there will be many seniors leaving," said senior team captain Grace Deitzler.  "In years to come, the team is looking also to get more and better funding and expand the community outreach that we do, as well as expand the team, hopefully appealing to more students."
About the Writer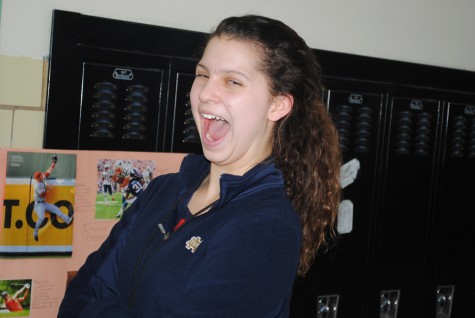 Emily Looby, Staff Writer
This is my first year on the newspaper staff and so far it's been a blast! My writing skills have improved since the beginning of the year and I've...