Distance learning offers new opportunities
December 7, 2020
The news that the 2020-21 school year would start out online came as a disappointment to many students. However, there are some good things that have come from the Distance Learning Model. One of those things is the Black Academy. 
Black Academy is an optional program for sophomores, juniors and seniors where students are given the opportunity to work together and build projects that benefit the school and expand the students' knowledge. The 16 students involved meet two times a week, usually on Wednesday and Friday afternoons. Their first project was an outside courtyard on the west side of the school building made mostly from repurposed materials, and mainly supervised by Stephen Wurst. Students enrolled in Black Academy for a multitude of reasons.
"I wanted to participate in order to experience a rigorous challenge in my sophomore year," Michaela Flowers, sophomore, said. "I was interested in all of the projects that were listed and the opportunity seemed too cool to pass up." 
While the students seemed to genuinely enjoy participating, they learned a lot as well. 
"I have gained a lot of experience, such as painting, using tools and using heavy machinery," Eli Minor, sophomore, said.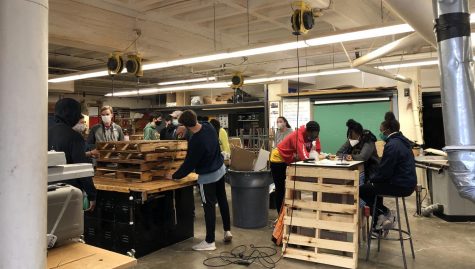 The students also learned life skills, in addition to practical construction skills. 
"I have learned that teamwork will always be necessary in life," Mouhamed Ly, sophomore, said. "Whenever someone tried to do everything themselves, it didn't work out. It was only when we worked in groups and made real connections that we could get the work done." 
Many students thought it was going to be similar to school-type learning like reading and writing, as opposed to the hands-on experience it turned out to be.
"I expected it to be somewhat like a chore or something I was obligated to do, but I ended up liking it and looking forward to our sessions," Ly said. 
Out of all of the work they did, the construction part of the project was very popular among the students. 
"My favorite thing about it was constructing the furniture we used in the courtyard in this quarter's project," Patrick Fuller, junior, said. 
Since the creation of Black Academy came with the new distance learning model caused by the pandemic, the students obviously had to take extra safety precautions, such as socially distancing and wearing masks. 
"[Wearing masks and staying distanced] is not weird at all," Flowers said. "Sadly, it is the new normal and I have been able to work around it. All Black Academy members have been able to work around it and that shows how committed and headstrong [the] members are. Working toward a challenge with obstacles in the way is to be expected, so it doesn't really affect the work. Black Academy has the 'go hard or get out the way' flow going on. All the members are very serious about safety, but work has to get done and we don't let a pandemic stop that without a fight."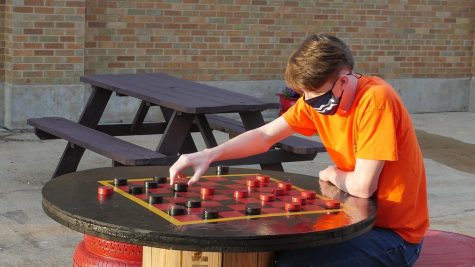 When asked if the students would participate in something similar in the future, the answer was yes all around.
"One hundred percent, no doubt, I would absolutely do something similar if given the opportunity again," Flowers said. "I love Black Academy.  It has opened up so many possibilities and I can really see it taking me somewhere. If not, it sure is going to be a highlight of my high school years at U. City and I am happy to say that."
Although the first phase is finished, Black Academy students have more to look forward to.
"[We will work on] a climate change study, [and] St. Louis since 1857 (the Dred Scott decision)." Stephen Wurst, project manager, said. 
If students return to school in person, Black Academy is expected to remain active.
"We would love to continue Black Academy when we go back in person," Wurst said. "We're still working on the logistics of it, trying to figure out if it would be a class—and if it was a class, would it be a practical arts credit, a fine arts credit—we are working that out."