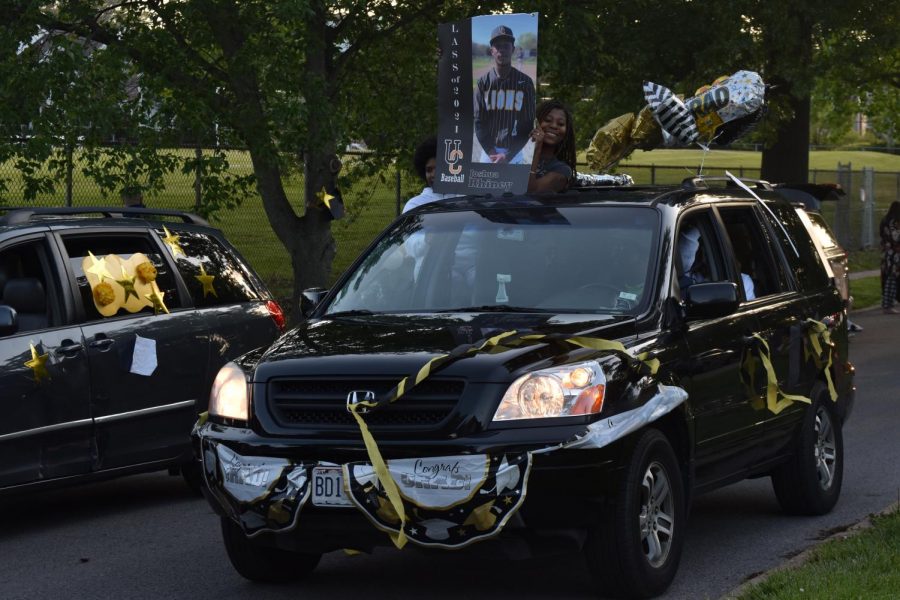 U. City celebrates seniors with car parade
May 25, 2021
For the second year in a row, the seniors and their families participated in a car parade on May 21 to celebrate their graduation. Families decorated cars with streamers and spray paint and parked outside the school, while firetrucks and more decorated cars drove past and honked and cheered to honor the graduating class.
COVID-19 caused everyone to miss out this last year, but no one has missed out quite like the class of 2021. With the shutdown beginning March of their junior year, and lasting through the entirety of their senior year, many seniors missed out on events they'd been looking forward to their entire high school careers.
"I'm still really bitter about missing my junior year soccer season," Aaliyah Brown, senior, said. "That was like the one thing I really wanted to do, I feel like we really could have done a lot with that season." 
Brown wasn't the only one upset over events they had been looking forward to since freshman year.
"Prom!" Lydia Thouroughman, senior, said when asked what she felt she missed out on. "Both proms, I'm so mad I was gonna be so cool and go to both proms but neither happened."
Several students confessed it felt surreal, and it didn't seem like it was really over.
"It's a weird feeling because it kind of feels like I graduated last year when the shutdown first started," Merrick Hoel, senior, said. "I'm definitely happy now because it was kind of a burden, but it feels really weird."
Despite all that they missed, many were still excited for what's to come.
"I'm going to Occidental College in Los Angeles so I'm super excited," Hoel said. "I'm running cross country and doing track." 
Hoel isn't the only one with good things to come. Many seniors were excited to discuss their plans for the future. Despite all they missed, they were ready to be done with high school.
"I'm going to hang out with friends and family, hopefully make up the time I've lost in the summer," Timothy Gibson, senior, said.