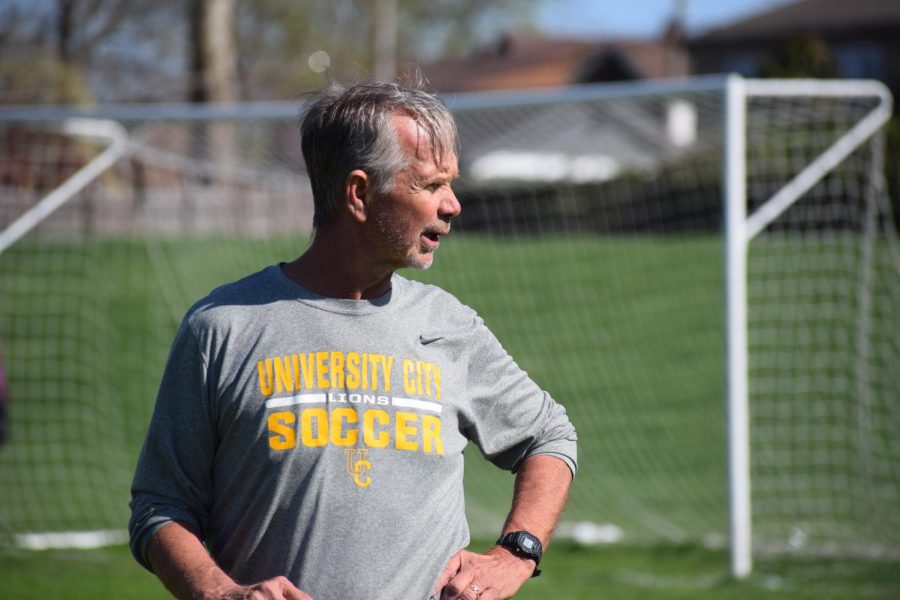 Long-time coach leaves program
For eight years, Thomas Henson showed up every day after school during soccer season to run practice or coach a game. As coach of the girls and boys soccer teams, he has committed to a stringent schedule. This year will be his last for the boys–and he is still deciding about the girls team.
"It is a little sad to be leaving the boys soccer program," Henson said. "When next August rolls around, I know I'll miss the excitement of preparing for a new season and the different challenges each year brings, but I know I made the right decision to retire."
As a head coach, Henson has made his mark.
"He wasn't one of those coaches that pushed you too far, but also wasn't super lenient," Eli Minor, junior, said. "He had a way to make you become better at something. He found the sweet spot for coaching student athletes."
Henson has always had a close connection with the student athletes, making sure that he knew them on and off the field.
"Being around the players is the one thing I will miss the most," Henson said. "Watching student athletes grow, improve and mature from their freshman to senior year was very rewarding. They always made me laugh, kept me on my toes, I learned to expect the unexpected, and I used their energy and enthusiasm to motivate and push me to be a better coach, Teacher, mentor, leader, and hopefully a role model."
As much as Henson will miss coaching, many of the players will miss what he taught them.
"Coach Henson helped me as a soccer player by allowing me to reach my full potential on the field and assisting me in developing my finer skills of the game," Patrick Fuller, senior, said. "He's also helped me as a person by enforcing qualities of commitment and punctuality. The most valuable thing he's taught me is resilience through the toughest obstacles and to stay dedicated to what I wish to achieve."
Henson has a few pointers for the incoming coaches.
"The advice I would give a new coach is to get to know your players on and off the field," Henson said. "Be visible in the UCHS building and in the University City soccer community, and finally, be yourself, have fun and enjoy the experience."
Henson has not yet decided about retiring from the girls' program; he is waiting until the end of the season. The prospect of him retiring has left the girls trying to imagine what it would be like without him.
"Knowing that the future U. City girls soccer team [might not] have Coach Henson as their coach is hard to believe," Isabel Forster, senior captain of the girls team, said. "His wisdom of soccer has given our team more opportunities than University City could have imagined, such as winning conference  in 2019."
Success did not always come to Henson, but he also coached the boys to conference wins in 2019 and 2020. His coaching went beyond teaching basic skills.
"Coach Henson has taught me many soccer skills and how to play the game," Forster said. "He also taught me leadership and sportsmanship. He has been the backbone of the soccer program and he will be missed by many. He has made my experience of soccer the best I could have imagined coming in as a freshman. I am thankful that I had Coach Henson as my high school soccer coach for all four years."