The snow day effect
October 29, 2020
U. City is never the first district to close when the weather gets bad. 
When it snows, I look at surrounding districts like Clayton and Ladue first to see if they've closed. Usually, we follow shortly behind; usually, we follow suit. The school closings ticker in the bottom right corner of the FOX morning news broadcast will scroll to the left. If I see Clayton first, I keep my pajamas on.
Now, the only school closings relate to COVID-19, and as more and more schools in St. Louis County begin to reopen and welcome their students back into the classroom, this snowball effect—or more precisely, "snow day" effect—deeply concerns me.
I have kept complete faith in the school district and board since the beginning of the COVID-19 pandemic, and nothing has come about to sway my opinion. However, with county executives like Sam Page and administration in neighboring districts feeling the heat from obnoxious parents itching to send their kids back to school, it's fair to say that most people are fed up with quarantine procedures. 
And that is particularly unnerving. It's not just the disease that is concerning; it's the "normalcy" politics that are affecting the lives and well being of students, teachers and families. I've heard and read the stories of raucous parents incessantly berating their school districts to send their students back to class; I've seen the refusal and indignance to simple preventive measures like wearing masks in neighboring counties and even within my own community; I've felt the unease around COVID-19 fade into a general restlessness to return to normal; but, if anything, our circumstances are exponentially worse than they were when everything became abnormal. 
Recently, despite rising infection rates, districts such as Clayton, Parkway West and Kirkwood announced their plans to return high school students on Nov. 9. Some neighboring districts like Brentwood have hosted fully in-person high school classes since the start of the school year, with varying degrees of success. U. City isn't immune to the return-fever, either, and presented plans for kindergarten through sixth grade students to cautiously switch to a hybrid learning model starting Nov. 9, to then be joined by seventh and eighth graders on Nov. 30. At this time, there are no return plans for high school students, and—at least for the time being—there isn't much incentive to do so anyways.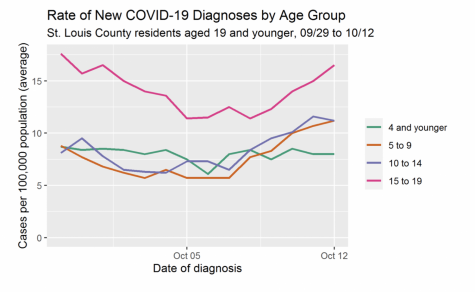 Most districts use St. Louis County age-demographic statistics to inform their decisions, and since October 8th, those statistics show a dramatic increase in new cases for ages 5-9, 10-14, and 15-19. Logically, it is impossible to understand the decision to start sending students back to school, especially as the weather cools and flu season creeps back into daily life. Experts have consistently warned of a massive second wave of COVID-19 occurring in the fall of 2020, but those warnings have apparently carried little weight. Furthermore, specifically within U. City Schools, distance learning is serving its intended purpose. A quick glance at the district's COVID-19 Dashboard shows an all-time total of only 4 positive cases out of 2623 students. Taken together, distance learning—at least in U. City—is successful at limiting in-person interaction and thus the spread of the virus, even with rates rising significantly elsewhere in the county. 
The trend of reopening is simply that: a trend. As districts feel more pressure to move their children away from distance learning alternatives, and as individuals grow increasingly agitated at home, the door is left open to a dangerously forced return. In response, as more schools bow to that process and disregard public safety, the likelihood that other districts will follow their lead increases.
The snow day effect is in full swing.