Football players sign with colleges for National Signing Day
Four U. City seniors formally committed to college football at a ceremony for National Signing Day. Seniors Kenneth Wilson, D'Mario Rogers-Miller, Martez Mayo and Ronnell Perkins signed with their colleges Wednesday, the first day college teams were allowed to officially sign freshmen for the 2015-2016 school year.
Mr. Hill, athletic director and sophomore principal, opened the ceremony and turned it over to Mr. Maclin, building principal.
"[The signers] have definitely made me proud and continue to excel at academics while they've been here," said Maclin. "It's not easy," he said, to balance athletics and academics.
"Yes, you are going on to college, but you are leaving the U," he said. "You will be representing University City High School wherever you go."
Coach Allen, head football coach, also made some remarks.
"They're not only excellent football players, but they're great young men," he said. "It's an honor that I've had a small part in their lives.  My life is forever changed for meeting these young men and their families."
Wilson signed for Lincoln University, Rogers-Miller for Central Methodist University, Mayo for Northland Community and Technical College in Minnesota, and Perkins for Mizzou. Two television stations filmed the ceremony and aired stories about Perkins.
Maclin was proud of all the signers.
"I'm excited to see the next stage in their careers and their lives," he said.
Mayo took a moment to reflect on his high school career after the ceremony.
"It was a nice journey," he said. "I couldn't have done it without the push from my coaches and my father."
After posing for pictures, the attendees adjourned to another room for cake and punch to celebrate.
Correction: We originally reported that Martavias Mayo was signing for Northern Technical College of Minnesota. It is in fact Martez Mayo, and he signed for Northland Community and Technical College in Minnesota.
About the Writer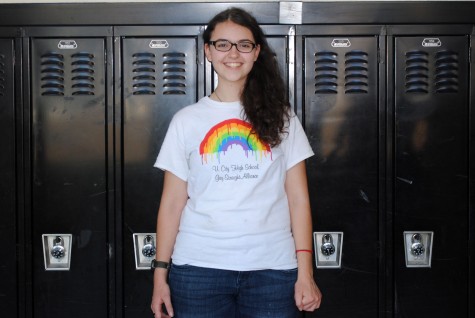 Christine Politte, Editor-in-Chief
There are few feelings equal to that of opening a freshly printed newspaper and seeing your name over the story you've worked on for weeks. After Ms. Williams...