Students rise early for chance to be on the news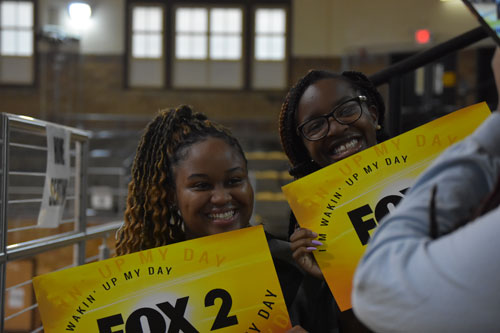 Most students aren't even awake at 5:45, let alone smiling for a TV camera. On Fri., Sept. 6,, the U. City cheerleaders were interviewed by Tim Ezell on the football field. As 6 am approached, the sun was beginning to rise and the Fox 2 Pep Zone show had moved inside to the gym.
"I was upset and tired [because it was so early], but more people came and the energy woke me up," Molly Hollman, senior said
The show travels to different high schools every week to amp up school spirit for weekend sports events.
While the TV crew shouted out orders, students tried to act enthusiastic for the cameras
 The band played while the cheerleaders and dance team performed. All students on fall sports teams, including the cheerleaders and dance team, were asked to be present.
"It felt really good and I was getting a lot of energy from the crowd," Nasia Metcalf, dance team member, said.
The football team was the main focus as their first home game was Sept. 7, the following day. At one point, Ezell led a grocery bagging game, with Dariaun Pointer, junior defensive captain, Darion Reed, senior safety, and Derrion Henderson, U. City alumni and Fox 2 News reporter.
"It is a high school memory that we will never forget and have for the rest of our lives," Hollman said.