Fox, Ritenour students spend day at U. City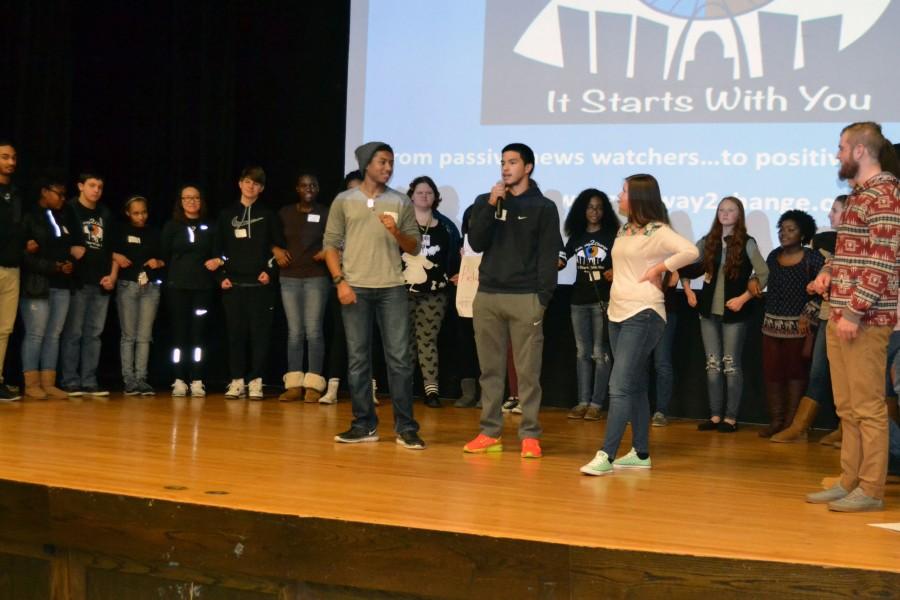 For one day on Jan. 14, students from Fox and Ritenour High Schools walked in the shoes of U. City students. The students from other schools are a part of the Student Summit on Race and partnered with U. City to do a school swap and shadow another student for a day. In December, five students from U. City visited Fox for a day.
Fox High School student Tori Hemingway, sophomore, liked many aspects of the academics at U. City.
"I love the smaller classes," Hemingway said. "We have about 30 to 35 students in each class at our school."
Hemingway explained that at Fox, they don't have a pool, dance class or dance studio and she was interested in the art and dance programs.
Jalynn Manning, junior, attends Ritenour High School. She liked shadowing a student from U. City and admired the atmosphere of the school.
"Everybody seems friendly and everyone seems to know each other," Manning said. "Our school is so big, people don't know everybody."
Manning was quick to notice the racial differences between her school and U. City.
"It's a lot less diverse than my school," Manning said.
Most of the nine U. City students had one student from Ritenour and one from Fox paired up with them.
Whitney Huling, sophomore, said one of the girls that was shadowing her admitted that she felt out of place because of the amount of black people at U. City.
"She eventually told me that she wasn't used to being around a bunch of black people," Huling said.
In addition, the school swap made people realize that not all stereotypes apply to all black people.
Having been involved in Race Summit for two years, Rontrell Gentry, senior, said he has a purpose for being a part of the program.
"I just want to change the mindset of others about the community and society," Gentry said.
Gentry knew that Fox and Ritenour students would enjoy their visit to U. City.
"I feel like our school is great so I knew they would like it," Gentry said. "I think it was a positive experience."
Gentry felt that it was important for the Fox and Ritenour students to realize that the stereotypes portrayed in the media don't relate to every black person.
"It got them to break the stereotypes between black and white communities," Gentry said. "Now they won't judge a race."