Military Ball bids final farewell to Col. Henson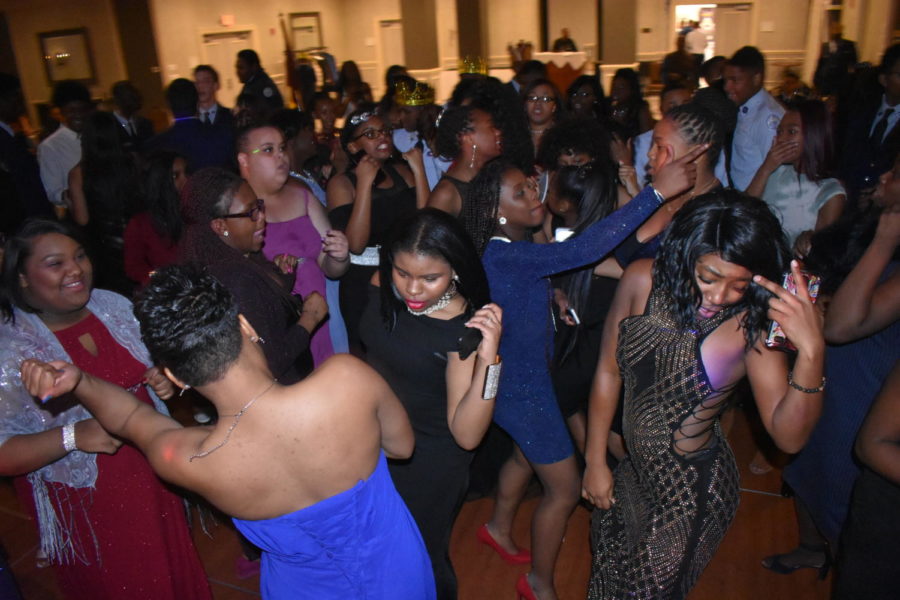 Lucy Wurst & Ashlynn Jenkins, Co-Editor and Staff Writer
February 13, 2018
It was the last dance for Col. Henson, and the Junior Reserve Officer Training Corps, or JROTC, team was determined to make it special. Henson retires at the end of this year.
Students were greeted at the doors of the Clayton Plaza Hotel by the JROTC cadets and escorted down a flight of stairs by one of the members into a grand ballroom, where the annual Military Balltook place on Feb. 2.
Balloons spelling out the names of the two schools in attendance at the ball, Soldan and U. City, were placed opposite sides of the room, separated by a dance floor in the middle and the head table where the leaders from both schools sat, including Henson. The night began with a social hour between the schools.
"I liked meeting new people from Soldan," said Marco Puma, sophomore. "But my favorite part of the night was the scavenger hunt."
Henson and Msgt. Stewart put on a musical chairs scavenger hunt where people in the crowd must help the contestants by reading off items from a list for them to retrieve. It could be anything from a driver's license to a woman's shoe. Henson had a wide grin as he watched the students frantically running around in search of each item.
Although Henson is planning on retiring from his 10-year teaching career, he still plans on coaching so he can maintain interaction with his former students.
"If there is one thing I will miss, it has to be the students," Henson said looking back on his years of teaching. "My favorite part is working with the students and seeing them mature through the program to become successful."
Prior to his many years of "service" to our school, Henson was in active duty for the U.S. Air Force, as well as Director of Human Resources for U.S. Nepcon. And before teaching in the JROTC program, Henson actually planned on teaching history, earning a social studies teaching certificate before choosing another route.
"Teaching is a lot harder than I thought it would be," Henson said. "I have a great respect for teachers who have been doing this for a long time."