Students return to school in distance learning hubs
Beginning March 8, freshman and senior students were given the option to come back to school for the first time this year and work in distanced learning hubs. Later, on April 8, sophomores and juniors were offered the same opportunity. Students were seated socially distanced in desks, either in a gym or the cafeteria, and joined their zoom classes. According to the high school re-entry plan, the purpose of the learning hub option is to give students a safe space to do schoolwork distraction free.
 "I need the structure of in-person, and it forces me to get out of bed,"  Lydia Thoroughman, senior, said. "I'm somewhat more productive there, I'm still struggling with that honestly. I'm still failing three classes, but hey at least I'm failing them less (from around 10% to 57%)." Which I think is a common struggle with a lot of kids after being online school for so long."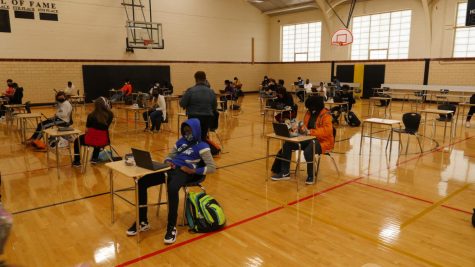 Students are able to work in a "pod" with a few friends that they can socialize with over breaks. For lunch, students stay at their desks to eat and are able to get up and talk to peers as long as masks and social distancing is maintained.
"The seniors were in the cafeteria," John Ruland, senior, said. "We brought our computers and supplies and basically camped out at regular school desks all day and did our Zoom classes from there. It's pretty much exactly how I expected it to be — rather monotonous, quiet, and institutional. One thing that pleasantly surprised me was that my friend Lydia was also doing in-person — so it was very helpful to have her there." 
The school provides lunch during the lunch hour, as well as an option to take home a meal at the end of the school day.
"The school lunch is nasty per usual, they bring them in paper bags," Thoroughman said. "They gave us donuts twice now, which is nice. The first day they gave us little care packages with hand sanitizer, a highlighter, a stress ball, a mask, the like."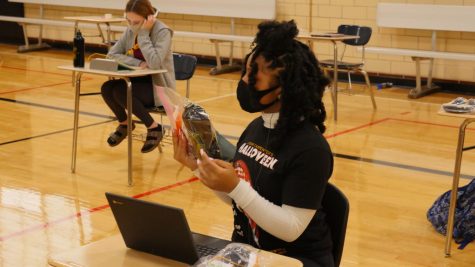 Eve Wilson, freshman, is not impressed with the lunch options either. 
"Some days the lunch is horrible so you should bring your own," Wilson said.
As for bathroom breaks, one student is allowed out at a time. There are teachers and administrators as "hub leaders" to support students and keep rules reinforced.
Although these learning hubs are not ideal, lots of students wanted to go back so they could participate in a more normal school setting. 
"I wanted to go back," Wilson said. "I was tired of sitting at home and wanted to see my teachers and classmates. I like being around people."  
While many students chose in-person learning to be more engaged, Ruland and Thoroughman went back to distance learning after not seeing improved productivity.
 "The very first day, I was significantly more productive because of the "newness" of the setup, but after that I just settled into another routine and the improvements kind of faltered," Ruland said. "I realized that I was procrastinating just as much as I did at home, because most of my procrastination happens on my laptop anyway."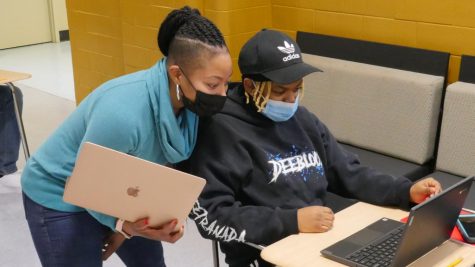 Leave a Comment