Trolley up and running after multiple delays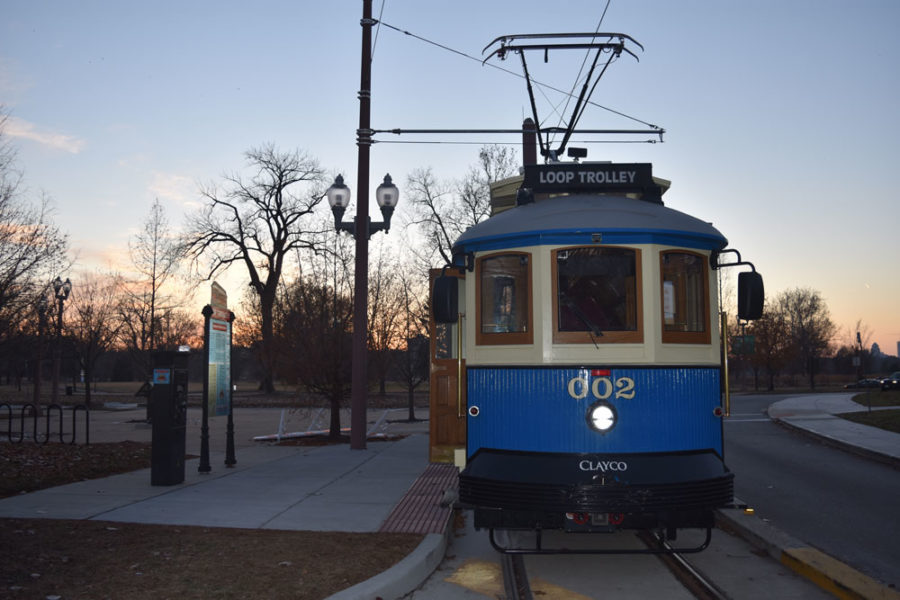 Just before the kick-off of the holiday season on Nov. 15, the Loop trolley was finally put into action although it did not actually operate in U. City until two days later because a city permit was lacking.
According to FOX 2 News, Gregory Rose, University City city manager, said the city was nervous about an electric pole near the library that was unsafe for vehicles and pedestrians.
After overcoming many delays, Joe Edwards' dream finally came true. It took over 20 years to get the Loop trolley operating.
"Years ago, in 1997, there was a neighborhood gathering of people trying to figure out how to spur development east of Skinker and save the neighborhood because it was going down, down, down," Joe Edwards, trolley developer, said. "Finally it hit me, an hour and a half into the meeting. We should bring back a trolley, a streetcar system." 
Delays occurred for many reasons, which Edwards compares to other sizeable projects. 
"It's hard to describe for a major project, there's the Arch grounds [which] happened several years after expected," Edwards said. "The Blues hockey practice center that was up and down, up and down, up and down, it's finally about to happen. It's like if somebody remodels a kitchen, it usually comes in a little later than they thought originally and that happened with this project. Some of it was the time it took the company to retrofit the cars."
There are two cars operating right now from Thursday through Sunday, with a third car expected in a couple of months. 
"It will be up and running this spring when the Loop trolley system will go seven days a week with longer hours and it will really be meaningful to St. Louis at that moment," Edwards said.
 As for the delays, Edwards cites a variety of reasons.
"We are only one of five cities in United States that got the Urban Circulator Grant, $25 million dollars," Edwards said. "Sixty-five cities tried for this funding. We are one of five who received it, otherwise it would have gone to a different state. That [was] the key question, it had to be on electric transit. It can't be spent it on education, healthcare, or anything else. It was very meaningful, it's not coming out of general revenue, it's self-supporting in that regard. It was important to me to not get the money from the general funds, only out of the Federal Transit Urban Circulator Fund."
Although Edwards put a lot of energy into funding for the trolley, he admits that some businesses in the Loop suffered during construction. 
"It was tricky during construction," Edwards said. "Contractors tried to give as much access as possible during that time. A furniture store closed six months before construction, but they closed their store downtown at a similar time, and there was no trolley construction downtown. A clothing boutique, Sole & Blues, closed, but they also closed their three other stores." 
Edwards mentions that he is the owner of several businesses in the Loop and was keenly aware of the impact of trolley construction.
"It's much easier to blame a highly visible project," Edwards said. "On the other side of Delmar, [it] impacted many businesses more and people did suffer at times, but not for long–it wasn't devastating, but it was tougher. At the most, it was only six weeks in front of a business."
Now that it is finally up and running,  the Loop trolley has been received well.  
"We are pleased to have the trolley up and running," Terry Crow, mayor of University City, said. "The trolley connects two of the treasures of St. Louis – the Delmar Loop and the History Museum in Forest Park.  We hope that it will provide a nostalgic means of attracting more visitors to the Loop to shop and dine." 
Likewise, Edwards sees a lot of potential for the trolley to succeed.
"Early response has been nothing short of phenomenal– now that people are able to ride the cars and see how beautiful they are in the interiors," Edwards said. "They're gorgeous, two tones of wood and brass fittings. It's fun to ride and it's clean electric transit, whether you are going to work, going to see a show or going to a restaurant."
Nathan Hill, junior, is one of the people who rode the trolley when it was free during Thanksgiving break.
"It was an interesting experience," Hill said. "I don't know if I'd do it again, but it's definitely worth trying."