Cafeteria food falls short of students' expectations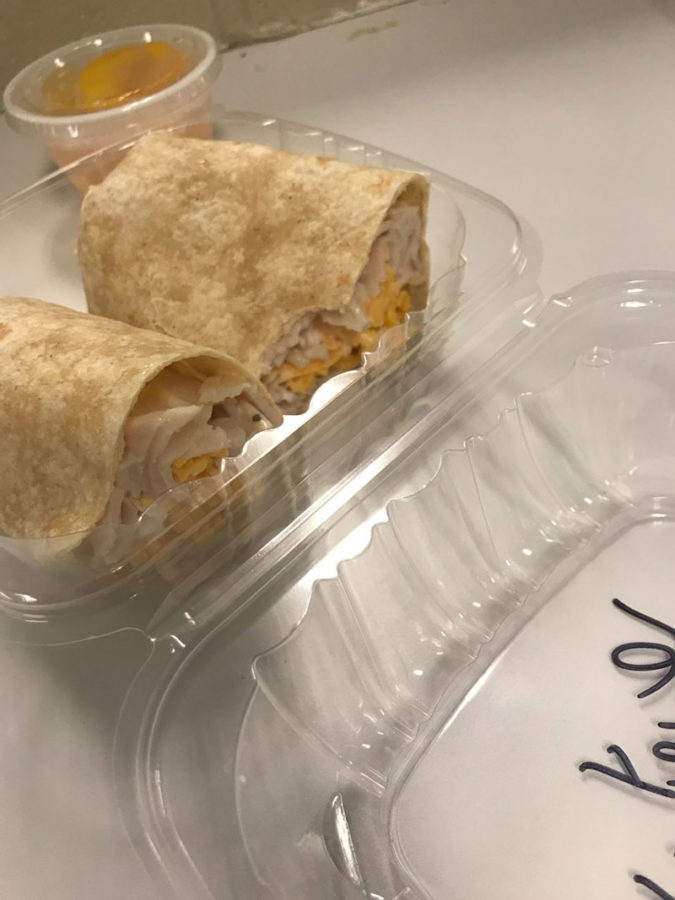 Public school lunches are not known to be gourmet or fancy. In fact, it's a common observation nationwide that school lunches are lacking. At our school, it is common to hear a student talking about how the food doesn't taste or look good or that they're stuck eating the same thing every day. Well, they're not lying. The food at our school is not appetizing and students get tired of the existing menu served everyday. The food is not healthy and should not be served to high school students who need to be consuming nutritional food.
Another issue involving lunchtime is that the cafeteria is short staffed. As a result of being short staffed, the cafeteria staff takes a while to provide the food so students have to wait in line for practically the whole lunch period before they can sit down with their food to eat, so by the time they actually get their food, the lunch period is almost over and they only have a few minutes to eat. Also, students are only allowed to have one serving of the main dish each day. How is one piece of pizza enough for a growing teenager?
Chartwells provides meals to our school based on what food options are most picked by students. According to Susan Hill, principal, if students don't pick a new meal that Chartwells provide, Chartwells will stop serving that item. For example, when kids grab the junky nachos instead of a new food item from Chartwells, they will continue serving the nachos over the new food item.
During Barack Obama's presidency, Michelle Obama introduced The Healthy, Hunger-Free Kids Act of 2010. According to obamawhitehouse.archives.org, "The Healthy, Hunger-Free Kids Act of 2010 authorizes funding for federal school meal and child nutrition programs and increases access to healthy food for low-income children. This particular bill reauthorizes child nutrition programs for five years and includes $4.5 billion in new funding for these programs over 10 years." The idea behind this bill was to "give USDA (United States Department of Agriculture) the authority to set nutritional standards, provide additional funding to schools that meet updated nutritional standards, help communities establish local farm to school networks, create school gardens, build on USDA's work to improve nutritional quality of commodity foods, expand access to drinking water, and set basic standards for school wellness policies."
This bill sounds like a great idea, but in reality, school lunches actually went downhill after the bill was introduced. The reality of this bill is that it accomplished none of those things except for the fact that the USDA could set nutritional standards. Standards that don't actually mean the food is healthy.
"It is frustrating that there are foods that could fit in the [federal] guidelines that aren't necessarily healthy," Susan Hill, principal, said.
Instead of the bill encouraging students to eat healthy, nutritious foods, it caused students to just not eat lunch at all because they don't like the "healthy" options that are being served. Students skipping lunch creates an even bigger problem.
However, since Donald Trump has taken office, his administration has rolled back Obama's healthy food initiative.
According to NPR, "… Newly minted Agriculture Secretary Sonny Perdue, announced a rollback of school lunch standards championed by the former first lady, declaring at a Virginia school that the administration would "Make School Meals Great Again."
So without the barrier of the government's regulations and standards of school lunches, it's time to fix the food. Chartwells needs to provide better options and students need to be open to trying them, instead of grabbing the pizza or nachos. We could also bring in outside restaurants, such as Subway or Chick-fil-A,  that can cater food for students who are willing and capable of paying. This way, students will want to eat lunch, and have better options. However, we would have to be sensitive to the fact that some kids can't afford to buy lunch outside of school, because school lunch is free for everyone.
"Not every kid is going to have the means to purchase [outside food] so we do have to be mindful," Hill said.
Lastly, it would be wise to add 10 minutes to our lunch period.  By increasing how much time we have for lunch, it will provide students more of an opportunity to socialize with their friends and relax so they are less likely to be doing those things during class time. It also gives more time for eating so students will be full and more likely to concentrate on their schoolwork instead of concentrating on their hunger.