"Don't Worry Darling" doesn't live up to the hype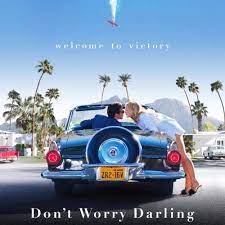 The "Don't Worry Darling" drama surrounding the movie was more interesting than the actual movie. "Don't Worry Darling," directed by Olivia Wilde, stars Florence Pugh as the main character Alice. The movie would have also starred Shia LaBeouf as the male lead, but the media was told he was fired. In actuality, LaBeouf quit the film and was begged to come back by Wilde. LeBeouf still decided not to come back, which led her to give the role to her boyfriend Harry Styles. Since Styles is not known for his acting skills and is romantically involved with Wilde, some people believed he didn't deserve the role.
The movie starts with the audience being introduced to Alice (Florence Pugh) and Jack (Harry Styles) partying with their friends. The environment shows that the movie takes place in the 50s from the vintage cars, clothes and hairstyles. Alice and Jack are love interests who are wealthy and don't have many cares in the world right now. Their friends are the same as they also seem pretty wealthy and carefree as Peg (Kate Berlant) drinks alcohol while pregnant without any interference from others. The scene then cuts to Alice and Jack doing their morning routine. Jack works during the day while Alice stays home. When Jack is leaving to drive off to work, all of the other men in the neighborhood also leave to go to work at the same time as him. They all leave their driveways and go to work in unison. At this moment unsettling feelings began to creep in as we learn that the film takes place in a dystopia.
When Alice is cooking for her and Jack's friend Frank (Chris Pine) at their party. She wants to use eggs but all of the eggs are empty. She cracks them and nothing comes out of them as if the eggs were just a prop.The scene then cuts to the party where we are introduced to Frank. He seems to be loved by everyone and in charge of what goes on in the neighborhood. The movie cuts back to Alice wanting to get some fresh air as she leaves her house for a bit. She sees a plane crash near a prohibited area. She goes to it but instead of seeing the plane she sees a glass house. She touches the house which gives her a glimpse of reality. 
Even after this revelation, the movie was genuinely dull. Instead of building anticipation, the entire movie (until the last 20 minutes where everyone is exposed) felt like filler. 
The movie's controversy surrounding it, from Harry Styles allegedly spitting on Chris Pine to people speculating that the cast did not like each other, overshadowed and distracted views from the actual plot and performance. Overall, the movie was underwhelming. While there were some enjoyable moments, it was a slow burn that only fizzled.
3/5