'Euphoria' earns high marks for second season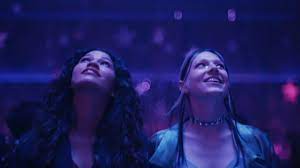 One of the highest rated HBO Max shows has just wrapped up its second season and fans are already looking forward to the next season.The last episode of this season was somewhat underwhelming because some situations weren't resolved or explained, but the sudden death of a fan favorite proved to be a shocking development. Fans will have to wait until 2024 to find out what happens next. 
"Euphoria" is especially popular because it embraces the struggle of teens dealing with everything from drug abuse and family dysfunction to sex and mental issues.
The main character is Rue Bennett (Zendaya), who narrates the story of her high school life after her father died when she was 13. Rue starts taking drugs, which leads to her abusing drugs, causing ripples with her friends and family. "Euphoria" shows the true life of a drug addict and how drugs can easily change a person, especially at a young age. Rue begins treating  the people around her differently and harshly, starting fights with her mom and constant arguments with her sister, Gia (Storm Reid). She stops caring about her best friend, Lexi (Maudue Apatow), and not showing respect to her rehab sponsor, Ali (Colman Domingo). It is a genuine depiction of the true life of drug abusers who struggle even with loving people in their life.
Another character that deals with family and mental issues is Nate Jacobs (Jacob Elordi). The majority of Nate's problems came from his dad as he saw disturbing videos of him at a young age. Ever since, Nate hasn't been the same. Other characters that are important to "Euphoria" are Maddy (Alexa Demie), Cassie (Sydney Sweeney), Jules (Hunter Scafer) and Fezco (Angus Cloud). Maddy and Cassie were best friends until Cassie allowed Nate to come between them. Jules' relationship with Rue takes a shift after Jules makes a huge mistake. And fans don't know where the future lies for Fez as his relationship with Lexi might not be happening and his encounter with the cops made his situation even worse.
"Euphoria" is a great show to watch with fantastic acting, leaving fans wanting Zendaya to win an Emmy for her performance.There are a lot more issues that the show covers to make it more relatable for teens and young people, such as validation, sexual assult, sexuality and more. This show is perfect for people who have dealt with difficult issues and if you're looking for a good show, it is highly recommended.
5/5 stars