New 'Spiderman' gives fans everything they want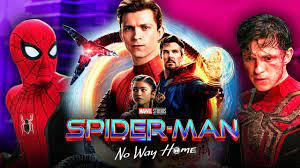 Spider-Man No Way Home" was truly the biggest movie of 2021 as it was the first movie to make one billion dollars at the box office during the pandemic. "Spider-Man No Way Home" had the returning villains from past movies reprise their roles to face off against Spider-Man (Tom Holland) after his identity was revealed by Mysterio (Jake Gyllenhaal).
This movie takes place right after "Spider-Man Far From Home" where Peter's identity is revealed and Mysterio is believed to die. Peter now has to face real world problems as his friends MJ (Zendaya) and Ned (Jacob Balton) are not getting accepted into any colleges. Peter feels responsible for his identity and problems affecting his friends and goes to Doctor Strange (Benedict Cumberbatch) to erase everyone's memory that he is Spider-Man. But the spell goes wrong, leading to villains coming from different universes.
The big fight involves Green Goblin (William Defoe) who faces off with Spider-Man one on one. Dafoe's acting skills are amazing as he acts like a normal and menacing person at the same time. He brought conflict and an unexpected death scene that left the fans shocked. Peter, mentally and physically beat, gets help from Andrew Garfield and Tobey Maguire's Spider-Mans.
For a long time, fans have wanted to see all three Spider-Man characters come together. This was nostalgic, as the previous Spider-Mans have not returned to their roles in years. Both Peters prove how they're Spider-Man, just from different universes. Watching the Spider-Mans work together and share wisdom was sad but powerful. At this point Peter is filled with anger, sadness and revenge, and it continues to affect his friendships. 
The audience hasn't seen this side of Tom Holland as Spider-Man yet because normally he is a happy teenager, and fans wanted to see a more complex portrayal. Peter suffers the consequences of his actions, which ends with a shocking twist.
This movie gave the fans everything they wanted. It had a great musical score, switching its tone throughout the movie. The actors did phenomenal as they brought comedy, sorrow and anger to the table. This movie also brought plenty of surprises and fans weren't sure if they should love or hate Green Goblin. This was a dream come true for Spider-Man fans.
Now playing in area theatres.
5/5 stars