Disrespect ruins the game
    Bills safety Damar Hamlin collapsed on the field after tackling Bengals receiver Tee Higgins in the Bills vs Bengals Monday Night Football Game in Cincinnati on Jan. 2. The game was later canceled. Playing in the National Football League (NFL) is already dangerous with serious injuries that happen every week. But an injury like this hasn't happened in over 50 years since Charles "Chuck" Hughes died on the football field Oct. 24, 1971. The reaction to Hamlin's tragedy from not just the fans of the sport but from the NFL alone is unacceptable.
    To the normal eye it looked like a basic tackle that happens every drive, but, if you look closer, you can see Higgins' helmet hit Hamlin's chest. Right after the tackle, Hamlin stood up like it was a normal play but fell over backwards mere seconds later. A few minutes afterward, players started gathering around Hamlin kneeling; most of them were crying. 
    An ambulance was brought onto the field, and Damar was given CPR. He was taken to the nearest hospital, which was University of Cincinnati Medical Center. After a few hours of nervous waiting and plenty of prayers and kind thoughts, it was reported that Hamlin went into cardiac arrest on the field and the CPR had saved his life.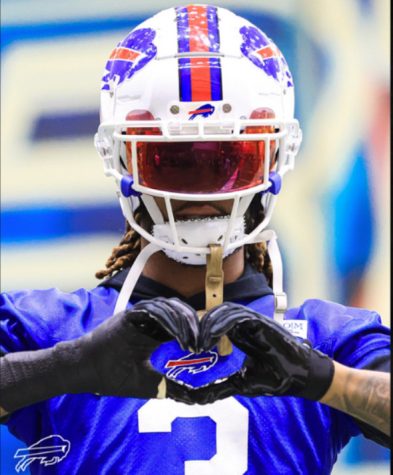 The coaches as well as the Commissioner of the NFL, Roger Goodell, decided to let the players go into the locker rooms for a five minute break to regroup after the horrible sight they all witnessed. Watching the game, one could see plenty of players crying with their arms around each other kneeling all in a circle. To think the NFL only sent the players in the locker rooms for five minutes after the condition the players were in is appalling because of the player's clear agony.
    All over social media platforms people sent prayers to Hamlin and his family. There was a Gofundme of a toy drive that Hamlin runs that was sent out by his family, and the goal was to get 2.5 thousand dollars. The internet passed that goal in less than a half hour of the release of the Gofundme. As of Jan. 6th, the amount sits at eight million dollars with 237,100 donations. All of the NFL teams and most people across Twitter changed their profile pictures to "Pray for Damar" with his number (3) under the words set up like a jersey.
    However, there have also been negative parts on social media about the injury. Numerous people are shaming Higgins for the hit, even though when watching the video, it's clear he wasn't trying to harm Hamlin at all. People were also worried about the game being canceled when a man's life was at stake. For example, Skip Bayless, who has a big platform on Twitter, tweeted, "No doubt the NFL is considering postponing the rest of this game – but how? This late in the season, a game of this magnitude is crucial to the regular-season outcome … which suddenly seems so irrelevant." The tweet got 166 million views, and people went off on him- for good reason. A young man's life could've been lost and Bayless is worried about making sure a game is played? With multiple players in tears worried about their teammate's life and a man in cardiac arrest, there are much more pressing issues than finishing the game. Yes, the game was very important. With the Bills being 12-3 and the Bengals being 11-4, the game was going to be a thriller and would've ultimately decided the first seed (spot) in the American Football Conference (AFC) for the playoffs. However, again, a young 24 year old player's heart stopped on the field, and Bayless was worried about the game being continued.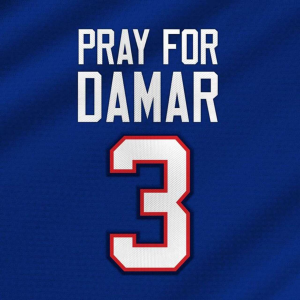 In my opinion, Bayless should not have made that tweet. He has a big platform and he lost multiple fans after the tweet. Saying that the game should be continued, especially after someone collapsed and went into cardiac arrest, completely disregards how the players on the field felt. Many other people also disagree with Bayless' quote tweet he made on Monday night. Former NFL player Michael Strahan, who works in the same network as Bayless, had some thoughts on Bayless' response: "You know, I've struggled with this in a lot of ways, because it's so much just about being an athlete and experiencing being on the field and being that close to guys," Strahan said. "And then you see something happen to a young man like that. You don't have to be a football player to understand how big this was. And you [Bayless] spoke about humanity. … There were things done here by someone here at this network that were inhumane." I 100% agree with Strahan. Bayless should have been called out, and it was good that someone with a big name in the football community did it. 
    While there were some negative sides to the Damar Hamlin story, such as people saying the game should've gone on and hating on Tee Higgins, there has also been some amazing parts, such as Hamlin's GoFundMe and people all over social media sending their prayers and changing their profile pictures. The individuals who went on Tee Higgins' Instagram/Twitter accounts to give him hate should be noticed a lot more. People should recognize that these individuals are hiding behind their phones telling someone that they should be ashamed of themselves and they should quit football when Higgins didn't men to injure anyone. Regarding the Bayless situation, he should not be able to continue on with his content without being recognized and called out by more people. People need to be more respectful because giving hate and disrespect to Higgins could take a turn for the worse. If hate keeps coming his way he could quit football. We shouldn't taint the respect we have for the game and the players with rude remarks.