GAME CHANGER
New coach brings wealth of experience to basketball court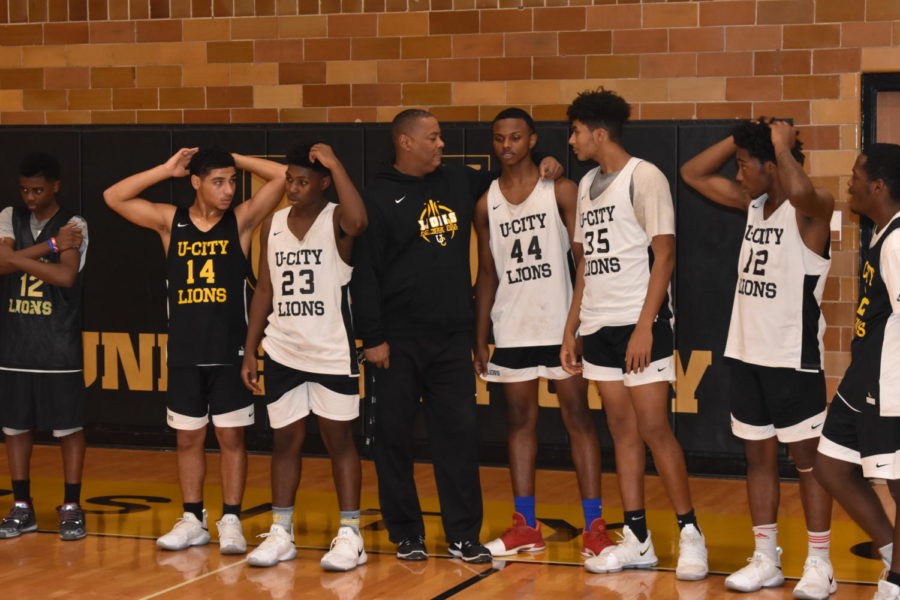 Another year brings another new basketball coach to U. City, but this year Coach Kelvin Lee has different intentions than past coaches.
Lee played basketball at Houston Baptist University under coach Gene Iba who coached for 15 years at major schools. But college basketball did not translate directly into coaching for Lee.
After college, Lee did not have to go far to find work, and worked in the construction industry in Houston, Texas. Years later, Lee was transferred to Florida, where his life began to change.
"I was still young enough to play basketball, so I was playing at all the playgrounds and gyms with the young guys," said Lee.
In doing so, Lee became a mentor for the younger boys he played with. He wanted to get guys off the streets, and would explain that hanging in the streets and not going to school would not get them into college.
"One morning I just woke up and decided I wanted to coach," said Lee.
So he went to his old high school in Florida and was offered a job right away. After one year, he received a call from his old coach, Iba, asking to come help coach at Baylor. Without any hesitation, Lee took the offer and worked part time at Baylor making $6,000 a year.
Lee explains that it was difficult living with such a low salary but "I knew if I did all the right things [and] stayed out of trouble, that my future was bright in coaching," Lee said.
Little did he know one year after that he would replace assistant Kim Anderson at Baylor (the same Kim Anderson who would end up being head coach for the Missouri Tigers) and would make $47,000 a year.
Lee has a long track record after that, including three years at Baylor and three years at St. Louis University, which Lee said was "one of the best decisions I've made in my life."
This was followed by a not so great decision to take a coaching job at Texas A&M.
"They really mistreated me–and my wife," said Lee.
A&M promised Lee and his wife that they would be able to get his wife a job, which didn't happen. They also promised that she could travel with the team which also didn't happen. The negative experience at Texas A&M really took away what coaching meant to him and made him drop out of the business.
He moved from Texas back to St. Louis, and after some time off, got a call from Chaminade High School. Lee worked at Chaminade and helped transform three high school kids into well known, first-round NBA draft picks, specifically David Lee, Bradley Beal and Jason Tatum.
"Now I'm looking for one [a star player] at U. City," said Lee.
After 16 years at Chaminade, Lee coached at Miller Career Academy and then became head coach at St. Mary's, before becoming the head coach at U. City where he has certain ideas he plans to put into place.
Lee lent a huge hand in starting the new Restorative Justice program here at U. City.
"If you can save kids from being kicked out of school, you're doing them a great justice," Lee said. "Sometimes suspending kids isn't doing any good. [The purpose is] to restore kids and restore trust between teachers and students–to restore undisciplined kids, and to make them feel remorse."
Lee wants to keep kids in school, and mend relationships within the school. Classroom talks have been held, as well as talks between students, teachers and parents. Lee also aids in restoring pride and school traditions and culture. He plans to restore pride in the boys basketball program as well.
"Defense wins championships" will be Lee's U. City's motto this season. As cliche as it may sound, Lee firmly stands by this. He also lets on that sophomores Trayvon Robinson and Keyon Beasley are going to lead the Lions this year.
"Those two guys are building the core of the team," said Lee.
Players at U. City seem to be just as fond of Lee as he is of U. City.
"He's probably one of the best coaches who ever coached here," said Robinson, the Lions starting small forward. "He motivates his players. We know that there's a 'method to his madness.'"