Girls basketball team shoots for success
With less than a month of preparation, the girls varsity basketball team is already set to start the season with a Dec. 2 game against John Burroughs. They are optimistic despite the difficulties they face.
"Our theme is 'Return to Greatness,'" said Coach Griffin-Essex in an email. "We hope to return the girls basketball program to one that the school, district and community can be proud of."
Griffin-Essex acknowledges that the team faces a number of challenges this season.
"The biggest challenge would be staying healthy and remaining injury free," she said.
The team is already undersized compared to many area teams, she said, and one of the twelve varsity players has already suffered a foot injury.
"We have a team where I am looking for everyone to contribute," said Griffin-Essex. "Our team is like a puzzle and when a piece is missing it leaves a void to fill."
Additionally, there are a lot of new and younger players, said junior Alaundra Reed, who is one of this year's players to watch, according to her coach. Reed said the team's lack of experience means they have to work harder to become a unit.
Even so, Justice Corn, sophomore, already sees improvement compared to last year.
"I think the team is on the right path," said Corn. "Everyone is thinking about it differently [than last year]. We're more serious about it. Leadership has gotten big."
The team has three main goals this year, according to Griffin-Essex: maintaining a team GPA of at least 3.0, winning at least half their games, and being in the top 3 teams in their conference.
To achieve these goals, said Reed, they are placing a big focus on the fundamentals, such as conditioning, running, and shooting, including layups.
The long hours of practicing have created team spirit among the players, said Diasia Howard, freshman.
"We've all got a good bond," she said. "We're close and get along."
Reed feels the same way.
"We are all close," she said. "We call each other sisters and help each other on and off the field."
The team spirit also extends to the coach.
"I am just so lucky and blessed to be able to lead such a great group of young ladies," said Griffin-Essex. "Dreams do come true."
See the team in action tonight and cheer them on at their first game at John Burroughs at 5:30 pm.
About the Writer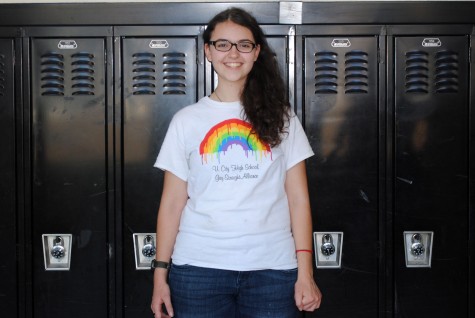 Christine Politte, Editor-in-Chief
There are few feelings equal to that of opening a freshly printed newspaper and seeing your name over the story you've worked on for weeks. After Ms. Williams...