Players step up to fill void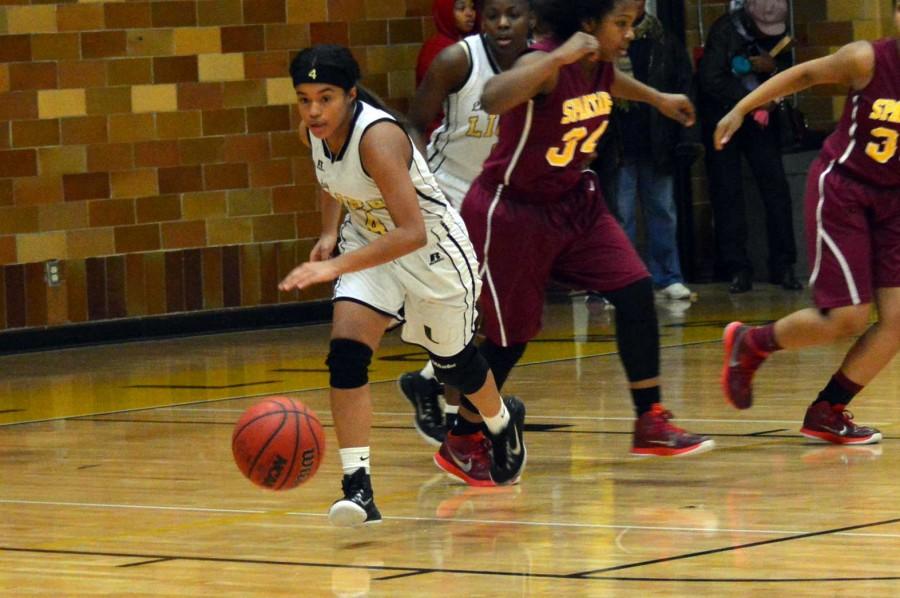 Strong. Goofy. Hard working. These are just a few words used by the girls' basketball players to describe their team dynamic this year. Despite several fallbacks, including losing their coach and three players being injured, the team has had a better season than last year in terms of their record and have set their sights on coming back even stronger in 2016.
"Last year we were all over the place," said Dejah Malveaux, sophomore. "This year we have more discipline and and people have gotten better [as players]."
The team has won five games thus far, but their winning streak came to a halt with the suspension of their leader, Coach Griffin-Essex, who was in her second year of being the head coach of the Lady Lions. Coach Walker,assistant coach, has taken a stand-in position during Griffin-Essex's absence.
Players have found the adjustment of operating without their head coach a difficult obstacle to overcome. Freshman Daisia Howard, who is unable to participate in games for the rest of the season due to a torn ACL, noticed that the team "started off rough" following Griffin-Essex's suspension, but found positivity in that it will ultimately make them a stronger team.
"We've had to get used to how Coach Walker coaches," said Nakia Yates, senior. "She's more of a laid back coach, whereas Coach E. was more involved."
Even so, the loss of their head coach has left the players with the opportunity to step up as leaders and act as the "glue" of the team. Players have found that captains LaShe Tomlin-Wilks and Alaundra Reed, juniors, as well as Dejah Malveaux, sophomore, have risen to re-unify the team and keep spirits high for the remainder of the season.
Tomlin-Wilks feels especially pressured to set a good example, and her teammates have noticed that she plays a large part in holding the team together.
"LaShe pushes everybody to do better," said fellow captain Malveaux. "She makes everybody happy."
Senior Nakita Yates agrees.
"LaShe has stepped up," said Yates. "She's outgoing, outspoken, and takes charge."
Even from afar, Griffin-Essex has seen "tremendous growth" on the court in comparison to last year.
"Dejah Malveaux continues to lead the team in scoring but Sharee Herrod and Alaundra Reed have stepped up their game towards the second half of the season," said Griffin-Essex. "LaShe continues to be a dominant force in the paint with defense and rebounding."
In spite of their many obstacles, Griffin-Essex sees the harmony of the team's dynamic.
"They're united as a team this year," said Griffin-Essex. "They're learning to play with and for each other."
About the Writer
Alice Mutrux, Co-editor
Alice Mutrux, co-editor, has been a part of the U-Times staff since her freshman year. She spends most of her time at school sulking and eating jars of...