Struggling Basketball Team Perseveres
Currently 0-14, the varsity girls basketball team has struggled through the first half of their season. Many of their games have ended in close ones; others, not so much. According to senior captain Deja Miller, the team is suffering from a low spectator turnout that has contributed to bad energy, which translates to their record. Fans have seemingly lost hope on the team even though they are steadily improving.
"Although we are not winning on the varsity level, the freshmen and junior varsity teams have secured wins," said varsity girls basketball coach Essex-Griffin (Coach E). "I am impressed with the dedication that these young ladies continue to show and their willingness to get better."
"I really hate the fact that nobody comes to our games," said freshman Justice Corn. "Our record certainly does not reflect the way that we play and it is not fair to the team when people stop coming. We need the support."
The girls credit their struggling season to their inability to work together effectively and powerfully as a team.
"We have a great deal of talent on the team this year," said Miller. "However, we struggled to put all of our talents together in order to work as a team."
Dejah Malvealux, freshman, is currently leading the team both offensively and defensively. She has tallied a total of 30 rebounds and averages 11.8 points a game.
Although Malvealux is scoring, not everyone else is.
"I don't think we are shooting the ball enough," said senior Te'Aira Hudson. "We're focusing more on defense and if we would shoot more, we would score some morale points."
The team this year has strived toward keeping an open line of communication and developing relationships with their teammates off the court. The entire girls' basketball program all went bowling together midway through their season.
"I chose to coach at U. City because of the rich heritage, the strong alumni support and the great leadership of the administrative team," said Coach E. "I also am able to look past the here and now and see the bright future ahead for Lady Lions."
By the end of the season, the team would like to prove people wrong, set the record straight. Even though the team is struggling, they are practicing to win.
"Our practices are grueling," said junior Arin Johnson. "Even though we do not win games, we definitely work just as hard."
About the Writer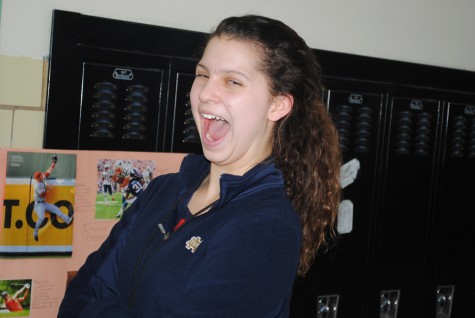 Emily Looby, Staff Writer
This is my first year on the newspaper staff and so far it's been a blast! My writing skills have improved since the beginning of the year and I've...