Wrestling team progresses toward state qualifiers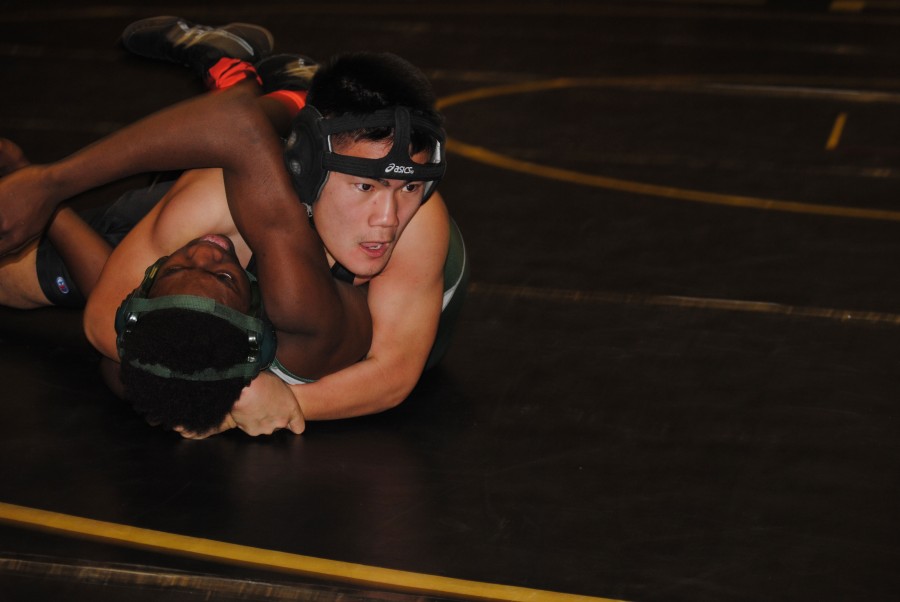 Every weekday after school, 10 boys retreat to the boy's locker room to dress out for wrestling practice. Practice starts at 2:40 and consists of stretching, running, and then heading to the weight room. After lifting in the weight room, the wrestlers go to the wrestling room to practice their newly learned moves.
The guys on the team know that success does not come easily and hard work must be done in order to win. With a winning record of 13-3-4, the team shows they are a dedicated group.
David White, sophomore, who has been on the team since freshman year, said that the team follows a specific schedule.
"We go over moves, drill with a partner, practice moves, then wrestle against each other," White said.
Although they have to work hard during practice, there are no dietary restrictions.
"There is no enforced diet," White said. "I eat the same year round."
Although practice is mandatory every day in order to succeed in matches, head coach Eric Morgan said dedication drives the boys to work hard.
"They must want to win," Morgan said.
Tramel Harrell, junior, who has been on the wrestling team since freshman year, said that sometimes people stay after practice, which ends between 5:30 and 5:45, to work out more or run. The extra work they put into practice is one of the reasons why they have a winning record.
"We are very successful because we work hard and are dedicated to win," Harrell said.
In his second year on the team, Jonathan York, sophomore, feels like he has seen a vast improvement in the team since the beginning of the season which means the team will have more opportunities later on.
"I feel like the team has improved this year and we'll do pretty well in districts and have more state qualifiers," York said.
Although York said the amount of work they put into practice and matches is hard, there is a good outcome when they wrestle in matches and tournaments.
Along with practicing together, they have a strong support system with each other.
"During tournaments, I think we support each other really well when we're wrestling, which boosts our confidence," York said.