All about that bass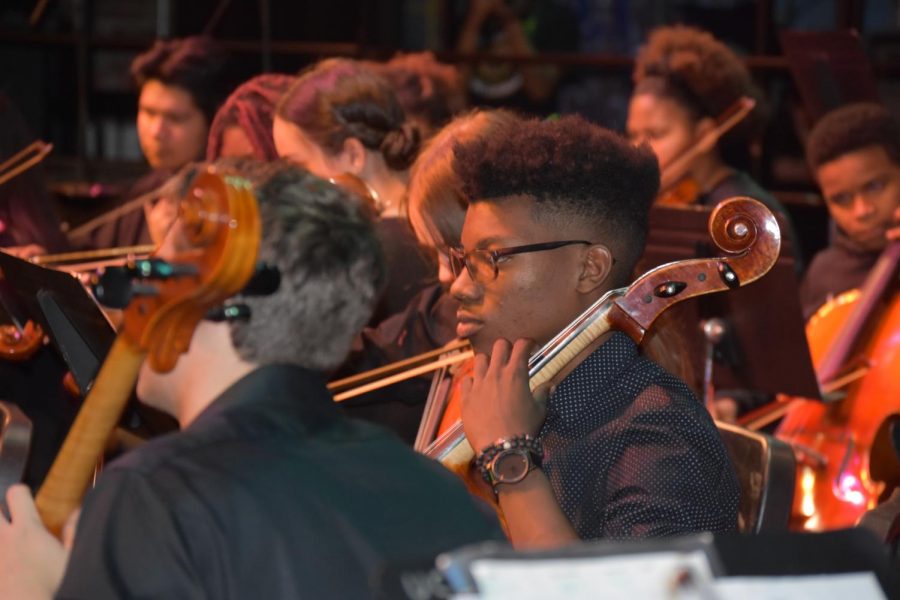 Parents, grandparents, and siblings of students filed into the auditorium for U. City's winter music concert on Dec. 5, at 6:30 pm. Approximately 120 people came to see the orchestra, choir and band play different arrangements throughout the evening.
"I was really excited because we worked really hard," Kiara Merrell, freshman, said.
The program started with choir director, Caroline Ibnabdeljalil, introducing the six songs that the choir would be performing. The song "Something To Believe In" from the play Dear Evan Hansen, was led by Chloe Richardson, sophomore. 
"I'm a really shy person and I was nervous the day before at practice," Richardson said. "But I couldn't let my shyness affect me because then I would have messed up." 
After the choir performed, Henry Giles, senior, played "Premiere Ballade Op. 23 in G Minor" by the Polish composer Chopin on the piano. He captivated the audience with his performance. Giles' family was there to watch his performance, so when he finished and took a bow to the crowd he earned a loud applause in response.
"When everyone's watching me on stage, [I get] a little nervous," Giles said. "When I finished, it felt like a weight was lifted off my shoulders." 
Following Giles' solo performance, the band came out and played two arrangements, the first a medley of songs from the 2004 Christmas film, "The Polar Express." As they played, a few audience members even sang along with the band's playing.
"I like that we learn different songs to perform," Dawson McCree, senior, said. "While we prepared I helped the new [band] members learn the songs." 
Up next was orchestra who played four songs. This year featured Amanda Davis, the orchestra director's first year at U. City. In between each song, Davis, moved the students around on stage.
"It's easier for me to get to know what skill level they're at by moving them around," Davis explained during the concert.
During the song "Arabian Dreams," Annie Rhoades, senior, played a solo. Rhoades has been playing the violin since the fifth grade. This concert was bittersweet for her because this is the last year she will be performing with the orchestra.
"The orchestra has always been so supportive," Rhoades said."So I was a little nervous but mostly excited about my solo. Overall, I think the concert was a success and everyone did pretty well."