Pep Rally Encourages Student and Staff Involvement
Flashes of gold glitter and face paint are common sights throughout the final day of spirit week. By the time the pep rally rolls around, the whole school is geared up and ready to go.
Each year an activity is selected to put certain class rivalries to the test, as well as teacher and student. This year, tug of war was selected. The juniors and seniors battled it out on the gym floor, with the juniors coming out victorious. Likewise, the freshmen and sophomores were paired up against each other, and after a long fight, the sophomore class representatives pulled the freshmen across the line.
"It felt like a dream come true," said junior D'Mario Rogers-Miller. "Throughout the day, the seniors were talking trash and discussing their strategy. It felt really great to win."
Members of Student Council selected teachers to participate in a three-legged race; teachers were partnered with teachers, students with students. As the race began, every pair seemed to be walking in sync their partners. However, as they passed the half court mark, the race started to get a little hairy.
"Once Marina [Claunch] and I crossed the to the other side of gym, we were feeling pretty great about finishing the race strongly," said senior Molly Paterson. "But once we made our way back across the gym, Mrs. Aboussie and Ms. McKenna starting dragging us along with them as they came crashing to the floor."
Many, however, would argue that math teacher Mr. Cloud came out victorious as he whipped off rope tied to his leg and sprinted away from partner Mr. Carter, ending the race with a sliding finish.
"The pep rally this year was in good order and went fine," said junior class treasurer Malik Johnson. "But during the tug of war things got kind of out of control, but overall it was fun and energetic."
About the Writer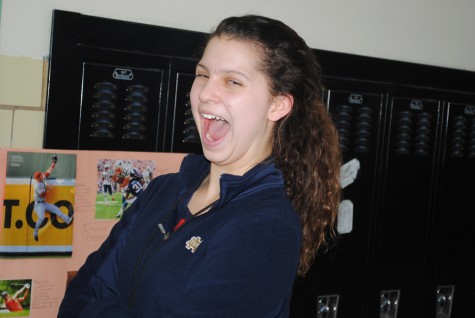 Emily Looby, Staff Writer
This is my first year on the newspaper staff and so far it's been a blast! My writing skills have improved since the beginning of the year and I've...