Senior Rides
The car is an important part of many people's lives, and because of that what somebody drives can say a lot about who they are or where they come from. Sedan? Truck? Hatch or SUV? Each of these vehicles says something about the lifestyle of the driver.
As college approaches, many seniors have begun to drive on a regular basis, and may even have their own vehicles. Many seniors have average, fairly boring cars, but the stories that come with them are not always quite as mundane.
Grace Deitzler, who drives an underpowered '99 Volvo S70, that "takes a long time to accelerate," participated in the Tire Rack Street Survival School, sponsored by the BMW Club, shortly after receiving her license in October 2011.
The goal of the school is to get teen drivers comfortable with their cars and to teach them valuable skills to get out of sticky situations. Unlike traditional defensive driving programs, which are akin to an abstinence-only health class strategy, Street Survival requires the student to find and exceed the limits of their car in a safe, closed-course environment.
"How to turn into the spin" was one of the most notable skills she learned, said Deitzler. The school puts students into a "freak situation" scenario and teaches them how to make it out in a safe and controlled manner.
"Luckily I haven't had to use any of the skills," said Deitzler, "but it's still good to have them."
The one day event costs only $75, which is a great value when considering the costs of not doing it. "It's a great deal for the entire day," said Deitzler. This school is a MUST for every new driver. There is an event scheduled for May 11, and there will probably be one or two more in the area this year.
Inherited from her grandmother, Jordan Kennedy drives a 2004 Mazda Protégé 5 with added cool points because it has a manual transmission. Kennedy claims that it can go as fast as 190mph, "tested once," while her grandmother was still driving it.
The car also has an upgraded sound system with 30 inch speakers, tinted windows and "always smells like Black Ice [air freshener]."
Elie Hudson has also benefitted from her grandparents. She has just begun to drive on a regular basis and is currently using her grandparent's 2002 Ford Escort.
"I 'got' my car December-ish. I don't really use it [that much], just to get to and from work, run errands, et cetera," she said.
Although it seems to run well enough – after all it is a grandparent car – "it's a really old, basic car, and so sometimes the [sound] only comes out of one of the speakers," she said. And since it doesn't even have a cassette player, "I'm stuck listening to either radio [music] or NPR."
Although she didn't know the exact mileage, Madeline Mattli, who owns a red 1998 Honda Civic, thinks that it might have more than 200,000 miles on it. Like Kennedy, she earns bonus points because this particular Civic contains a manual transmission, or "stick shift."
It wouldn't be hard to believe her guess if you saw – or rather heard – this automobile on the road. The engine rattles upon start up and something sounds about ready to fall off whenever it goes over a bump.
"I don't care about its rattly engine", she said. "It's my baby."
Chris States owns a used 1993 Toyota Camry. The only problem with it, he says, is that one of the window motors is broken.
"The window stopped working when we drove it off the lot," he said.
Although the car is technically his, States has "no idea" whether or not the college he goes to will allow him to have it freshman year. It is likely that he will probably have to let it sit at home for a year before he can bring it on campus.
"I'm not too picky [about cleaning it]," he said. If it is unlikely to rain, he will wash and vacuum the car about once a month.
This car was a "necessary" buy, States said, and if he could buy any car he wanted, "I would get a Mini Cooper."
About the Writer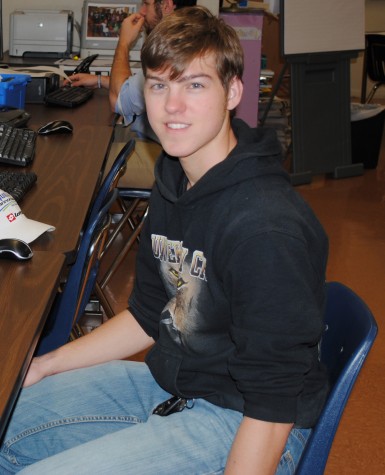 Carl Sechrist, Web Editor
I have been with the newspaper for five semesters now – that's two and a half school years. After learning the ropes in the second semester of sophomore...